Waffles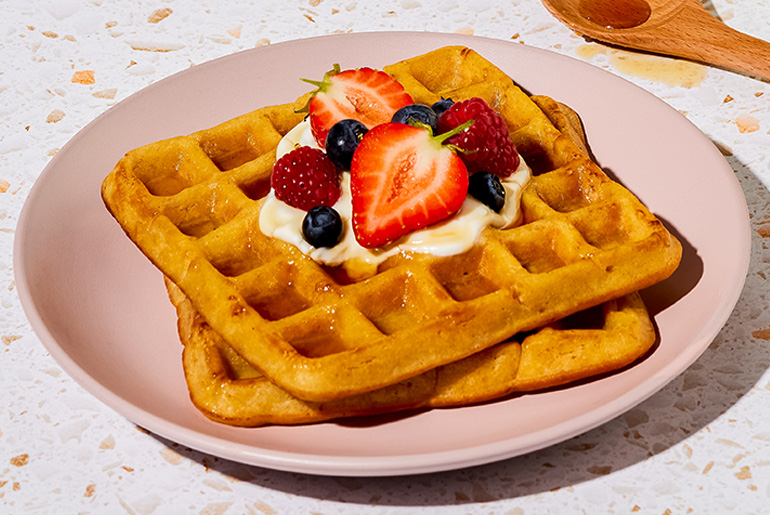 With Protein Bake Mix, there are endless possibilities. Whether you are craving a sweet or savoury snack, we've got you covered. Why not try these delicious, high-protein waffles, ready in minutes. 
Serves: 2

Ingredients:
1 serving (26g) Herbalife Nutrition F1 Vanilla cream flavour
1 serving (24g) Herbalife Nutrition Protein Bake Mix
100 ml semi-skimmed milk
1 medium egg
2 egg whites
30g oat flour
Method:
Whisk the eggs in a medium bowl, then add the milk
Incorporate the rest ingredients, and whisk to a smooth batter
Set aside for 15 mins to rest if you have time, or start cooking straight away
Set a medium waffle maker over a medium heat
Cook on both sides until golden
Serve with your favourite toppings
 

Energy (kcal)   

 

Fat (g)

Carbohydrates (g)       

 

Fiber (g)

Protein (g)

Per serving

223

7.3

20.0

4.2

19.3
Fat of which saturates (g) : 2.2
Carbohydrate of which sugars (g) : 6.6
Salt (g) : 0.7
*The Protein Bake Mix nutritional profile is unchanged when cooked/heated, however, if other Herbalife Nutrition products are used in the recipes too, some of the vitamin levels in those products may decline by cooking.