Vanilla & Chocolate Cupcakes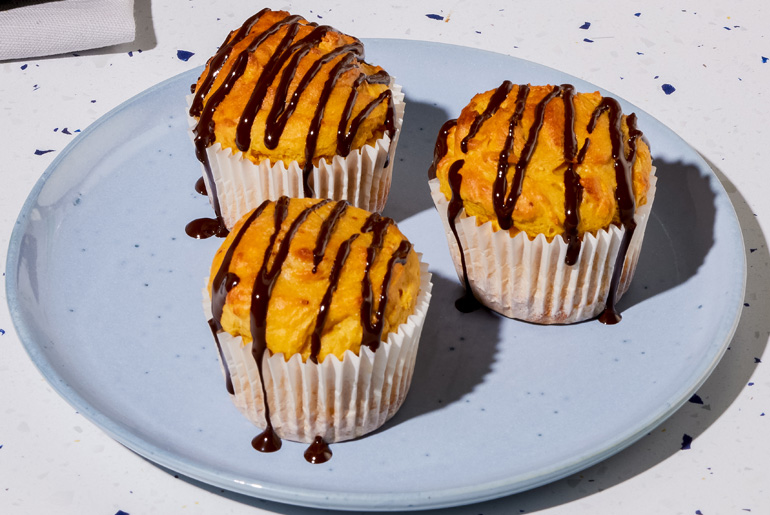 With Protein Bake Mix, there are endless possibilities. Whether you are craving a sweet or savoury snack, we've got you covered. Why not try these delicious, fluffy cupcakes?
Serves: 8
Prep time: 10 minutes
Cook time: 20 minutes

Ingredients:
96g Protein Bake Mix
112g Protein Drink Mix
40g reduced-fat soft margarine [Lighter Flora]
230ml semi-skimmed milk
20g 90% dark chocolate
8 cupcake cases
Method:
Equipment: a 12-hole cupcake tin
Preheat the oven to 180°C/gas mark 4 and line the cupcake tin with eight cupcake cases. In a large mixing bowl, combine the Protein Bake Mix and Protein Drink Mix with a wooden spoon. Stir in the margarine and then the milk, stirring in gradually, then continue to stir until very smooth.
Divide the mixture between the cupcake cases and bake for 15-20 minutes, until risen and golden. Allow to cool in the tin.
Once cool, break the chocolate into small pieces and place in a microwaveable bowl. Microwave for 1 minute to 1 minute and 30 seconds or until you can stir the chocolate smooth. Drizzle the chocolate over the tops of the cupcakes and allow to dry before serving.
 

Energy (kcal)   

 

Fat (g)

Carbohydrates (g)       

 

Fiber (g)

Protein (g)

Per serving

143

5.5

9.0

1.0

14.0
Fat of which saturates (g) : 1.9
Carbohydrate of which sugars (g) : 2.0
Salt (g) : 0.7
*The Protein Bake Mix nutritional profile is unchanged when cooked/heated, however, if other Herbalife Nutrition products are used in the recipes too, some of the vitamin levels in those products may decline by cooking.