Mushroom & Tomato Loaf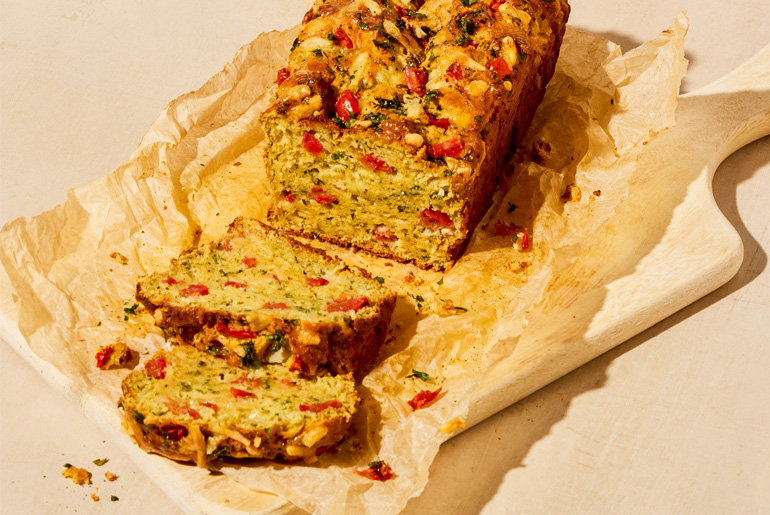 With Protein Bake Mix, there are endless possibilities. Whether you are craving a sweet or savoury snack, we've got you covered. Why not try this delicious mushroom and tomato loaf?
Serves: 4
Prep time: 10 minutes
Cook time: 40 minutes

Ingredients:
96g Protein Bake Mix
78g Formula 1 Savoury meal
210ml semi-skimmed milk
1 (90g) tomato, chopped
20g 30% reduced fat Cheddar cheese, grated
50g 50% reduced fat, mature cheese, grated
2 tbsp chopped basil and parsley
Optional: sea salt and black pepper
Method:
Equipment: 500g loaf tin, baking paper
Preheat the oven to 180°C/gas mark 4 and line the loaf tin with a sheet of baking paper. In a large bowl, combine the Protein Bake Mix and Formula 1 Savoury meal. Gradually whisk the milk into the dry ingredients for 1-2 minutes, until very smooth.
Mix in the tomato, cheese, basil and parsley, then combine thoroughly. Transfer the mixture to the prepared tin and flatten the top down with a spatula. Bake for 35-40 minutes until an inserted skewer or flat knife comes out clean. Allow to cool in the tin for 10 minutes.
Remove the loaf from the tin and remove the paper. Place the loaf on a serving plate, then slice and serve.
 

Energy (kcal)   

 

Fat (g)

Carbohydrates (g)       

 

Fiber (g)

Protein (g)

Per serving

239

7.9

14.2

5.8

25.3
Fat of which saturates (g) : 3.5
Carbohydrate of which sugars (g) : 4.3
Salt (g) : 1.3
*The Protein Bake Mix nutritional profile is unchanged when cooked/heated, however, if other Herbalife Nutrition products are used in the recipes too, some of the vitamin levels in those products may decline by cooking.