Mini vegetable pizzas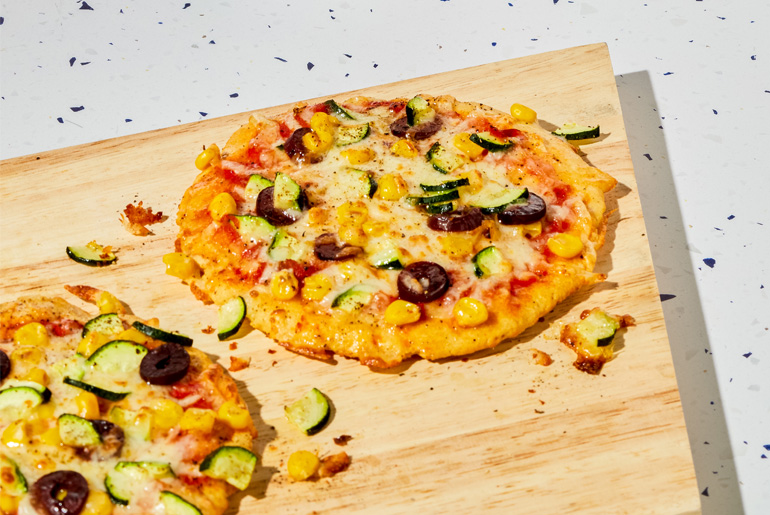 With Protein Bake Mix, there are endless possibilities. Whether you are craving a sweet or savoury snack, we've got you covered. Why not try these delicious mini vegetable pizzas?
Serves: 2
Cook time: 15 minutes

Ingredients:
48g Protein Bake Mix
3g fast-action dried yeast
35ml semi-skimmed milk
20g bread/strong flour, to dust (or gluten free alternative)
2 tbsp passata
4 fresh basil leaves
30g reduced fat grated mozzarella, thinly sliced
1/4 (80g) courgette, chopped
4 olives, sliced
20g sweetcorn
sea salt and black pepper
Method:
In a large bowl, combine the Protein Bake Mix and yeast. Warm the milk in a cup in the microwave for 10 seconds, or until room temperature. Mix the milk into the dry ingredients and stir for 1 min. Scrape the mixture downs it is one mound with a spatula. Cover the bowl with an airtight wrap and leave in a warm place for 1 hour.
Preheat the oven to 200°C/gas mark 6 and line an oven tray with baking paper. Dust a clean work surface with flour and transfer the dough onto it. Divide the dough into two equal pieces and roll into balls with your hands. Using a rolling pin dusted with flour, roll the balls out to an around 10cm circle, dusting with flour as you go. Transfer the circles to the baking paper.
Spoon a tablespoon of passata onto each pizza and spread it with the back of a spoon to the edges. Rip the basil leaves into small pieces and scatter on top of the passata and then season with salt and pepper. Top each pizza with equal amounts of the mozzarella, courgette, olives and sweetcorn. Bake for 10-15 mins, until the pizza is golden and the cheese is melted. Serve or cool and chill to be eaten cold.
 

Energy (kcal)   

 

Fat (g)

Carbohydrates (g)       

 

Fiber (g)

Protein (g)

Per serving

190

5.1

18.7

2.8

17.0
Fat of which saturates (g) : 2.1
Carbohydrate of which sugars (g) : 2.4
Salt (g) : 0.4
*The Protein Bake Mix nutritional profile is unchanged when cooked/heated, however, if other Herbalife Nutrition products are used in the recipes too, some of the vitamin levels in those products may decline by cooking.