Donuts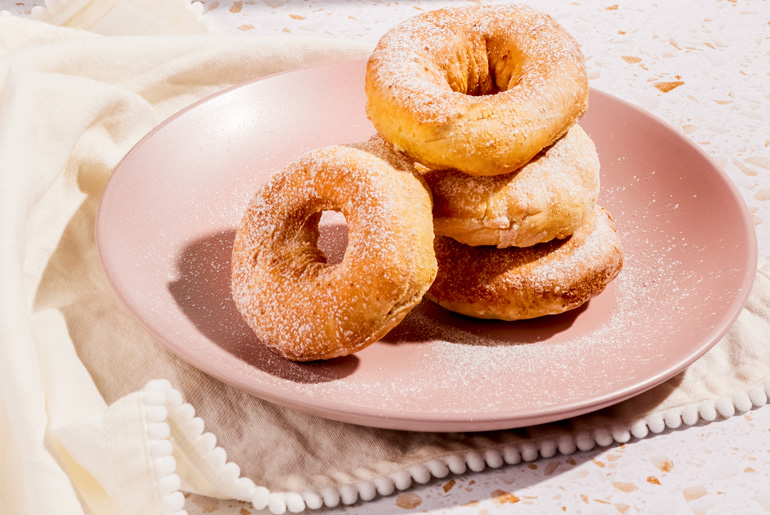 With Protein Bake Mix, there are endless possibilities. Whether you are craving a sweet or savoury snack, we've got you covered. Why not try these delicious, fluffy donuts? 
Serves: 4
Prep time: 10 minutes
Cook time: 5 minutes

Ingredients:
1 egg
2 tsp water
1 tsp vanilla essence
48g Protein Bake Mix
40g plain flour, plus extra for dusting
8 sprays of reduced fat olive oil spray
Method:
Equipment: 7cm cookie cutter and 3cm cookie cutter, Air fryer
Preheat the air fryer, if the model requires it. In a jug, whisk the egg, water and vanilla essence together, then place the Protein Bake Mix and flour in a large mixing bowl and mix in the egg mixture until completely integrated.
Dust a clean kitchen surface with flour and tip the mixture onto it. Dust the mixture and roll to about 2cm thick, with a rolling pin dusted with flour, then cut three large circles out of it with the 7cm cutter. Using the smaller cookie cutter, cut out a small hole in the middle of each of the circles to make donut shapes.
Gather the smaller holes and off-cuttings and roll it into around a 7cm circle. Neaten the circle up by using the 7m cookie cutter, then cut the middle out with the smaller cookie cutter.
Spray the donuts once on each side with the spray and transfer to the air fryer basket, spacing them about 2cm away from each other. Cook for 5 minutes at 175°C, until golden and risen. Allow to cool before eating.
 

Energy (kcal)   

 

Fat (g)

Carbohydrates (g)       

 

Fiber (g)

Protein (g)

Per serving

102

2.6

12.1

1.2

7.8
Fat of which saturates (g) : 0.8
Carbohydrate of which sugars (g) : 0.4
Salt (g) : 0.0
*The Protein Bake Mix nutritional profile is unchanged when cooked/heated, however, if other Herbalife Nutrition products are used in the recipes too, some of the vitamin levels in those products may decline by cooking.