Brownie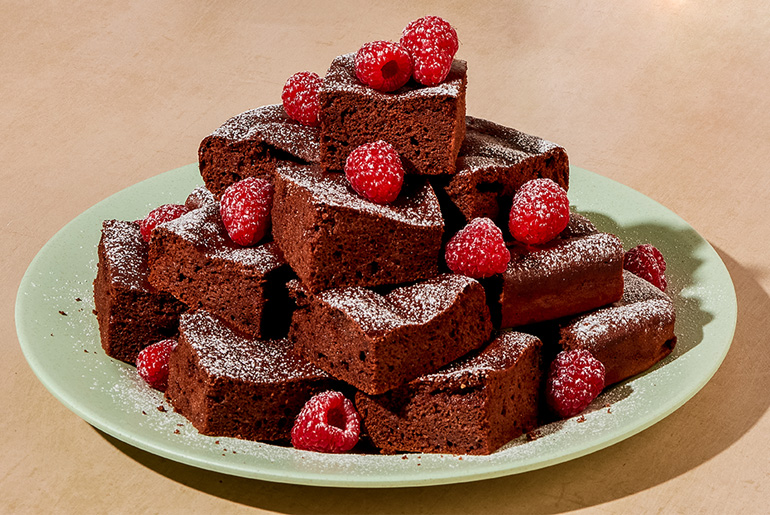 With Protein Bake Mix, there are endless possibilities. Whether you are craving a sweet or savoury snack, we've got you covered. Why not try these delicious brownies? 
Serves: 8
Prep time: 10 minutes
Cook time: 30 minutes

Ingredients:
50g low-fat spread
35g soft brown sugar
96g Herbalife Nutrition, Protein Bake Mix
100g Herbalife24 Rebuild Strength Chocolate
200ml semi-skimmed milk
35g 85% dark chocolate, broken into pieces
16 g cocoa powder
1 egg
Method:
Equipment: Baking paper, 20cm square cake tin
Preheat the oven to 170 C/gas 3 and line the cake tin with baking paper.
In a large mixing bowl, combine the low-fat spread with the soft brown sugar until completely combined. Stir in the Protein Bake Mix and Rebuild Strength powders, along with the milk.
In a microwaveable bowl, melt the chocolate for 1 minute and 30 seconds or until you can mix the chocolate smooth. Stir the chocolate into the batter and whisk in the eggs. Transfer the batter to the prepared cake tin and bake for 15-20 mins until the top is set and fluffed up but the filling is still liquid underneath. Pierce the top a couple of times with a knife then allow to cool in the tin.
Remove the brownie from the tin and baking paper then cut into sixteen pieces. Keep for up to 4 days in the fridge or wrap the brownies individually and freeze. To defrost, transfer to the fridge until defrosted.
(2 brownies)

 

Energy (kcal)   

 

Fat (g)

Carbohydrates (g)       

 

Fiber (g)

Protein (g)

Per serving

187

7.4

15.3

1.0

14.4
Fat of which saturates (g) : 3.1
Carbohydrate of which sugars (g) : 10.8
Salt (g) : 0.6
*The Protein Bake Mix nutritional profile is unchanged when cooked/heated, however, if other Herbalife Nutrition products are used in the recipes too, some of the vitamin levels in those products may decline by cooking.