Banana Bread Loaf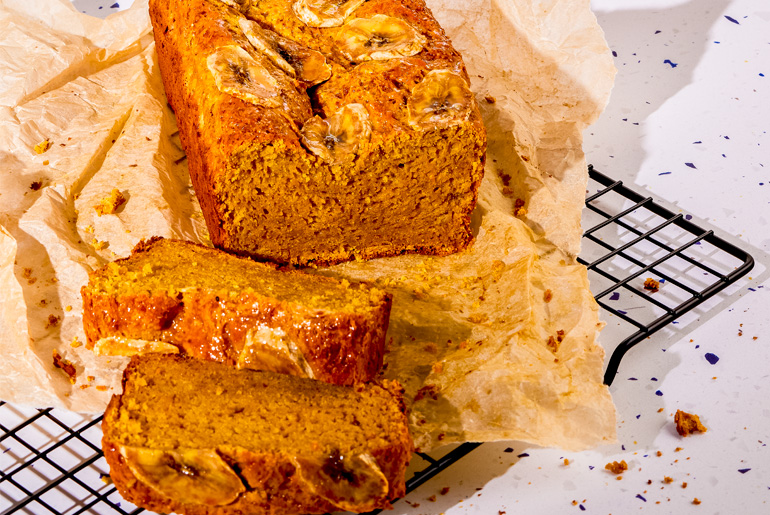 With Protein Bake Mix, there are endless possibilities. Whether you are craving a sweet or savoury snack, we've got you covered. Why not try this delicious banana bread loaf?
Serves: 8
Cook time: 45 minutes

Ingredients:
96g (4 servings) Herbalife Nutrition Protein Bake Mix
104g (4 servings) Herbalife Nutrition F1 Banana Cream flavour
140ml semi-skimmed milk
100g reduced fat spread
1 (95g) banana
1 egg
2 tbsp coconut sugar
Method:
Equipment: 500g/1 lb Non-stick silicon loaf tin
Preheat the oven at 150°C. In a large bowl mix the Protein Bake Mix, F1 Banana Cream, milk and spread. Halve the banana and cut one half into thin slices and set aside. Mash the remaining half and add to the bowl.
Stir in the coconut sugar and transfer the mixture to the tin smoothing the top down with a flat knife to make sure the mixture fills the tin. Place the reserved banana slices on top of the cake and bake for 45-55minutes until browned and centre is cooked through. Test this by inserting a toothpick into the centre of the loaf, it should come out clean if cooked through. Serve.
 

Energy (kcal)   

 

Fat (g)

Carbohydrates (g)       

 

Fiber (g)

Protein (g)

Per serving

183

8.2

15.2

3.2

11.5
Fat of which saturates (g) : 2.3
Carbohydrate of which sugars (g) : 11.0
Salt (g) : 0.7
*The Protein Bake Mix nutritional profile is unchanged when cooked/heated, however, if other Herbalife Nutrition products are used in the recipes too, some of the vitamin levels in those products may decline by cooking.